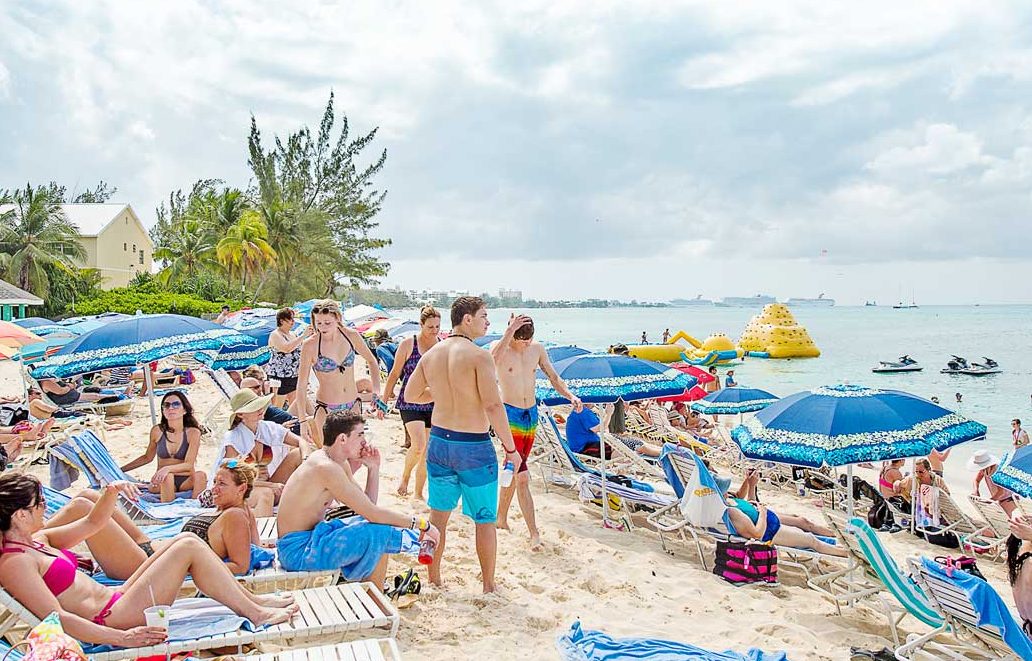 Seven Mile Beach is a main beach attraction that stretches over 4 miles in Negril, Jamaica. It is situated off Norman Manley Blvd. Seven Mile Beach has white powdered sugar sand and clean water with only a small amount of seaweeds. The beautiful turquoise color sea matches with the cloudless blue sky. As you look around, you will see tall cliffs which give it a remote look. You can hire a horse and ride on its back to stroll the beach.
The beach gets busy in peak season like February but visitors are reduced in off season like September. You can sit anywhere on Seven Mile Beach to watch the sunset. Many tourists also stay up to watch the afterglow scenery on the beach. The water is calm and the wave usually will not reach more than 3 feet. There aren't many shady spots. Most of the beach area open and exposed to the sun. Get more details on 7 mile beach – beachspot.org.
Seven Mile Beach is a public beach and you can put your towel anywhere. If you are a hotel guest, the security guard will help to watch over your stuff. The sun beds are free to use. If you want umbrella, you will have to rent it. It is recommended that you rent an umbrella as the sun can be hot. The beach chair is also private and you must pay a fee before you can use it. There are a few changing rooms where you can change your clothes into swimsuit if you want to go swimming. Public bathrooms are available if you need to use the toilet.
There are 2 volleyball nets in good conditions. Only guests of the resort are allowed to use the nets. There are security guards watching and restricting the use of the volleyball nets to non guests. It can be noisy on Seven Mile Beach as they play the Reggae music loudly. There is a section with blocked access where you can have some peace.
Vendors would walk around and ask the people to buy some stuff from them. There are also those who walk around to sell sea trips like gonga, hobie cats, fishing kayaking, paddle board, parasailing and glass bottom boat tour. The glass bottom boat tour will take you to a shallow reef where you can interact with fishes through the glass at the bottom of the boat.
Seven Mile Beach offers great snorkeling for beginner snorkelers. If you are a skilled diver, you can dive deeper to see more fishes. You can bring your own diving equipment or rent them from a local shop. Many different types of fishes can be seen when you go under the water including box fish, starfish, stingrays, and goat fish. You will also get to see a complex system of reef formed of different types of corals like flowerpot, anemone and red cauliflower corals.
Seven Mile Beach has a concession stand where you can order food and drink. There is a small complex where you will find shops and restaurants. Food stalls that sell Spicy Jamaican cuisine are also available on the beach. The seafood are made with fishes, crabs and conch that are freshly caught. It also offer chicken and pork dishes. You can find both budget and high end restaurants along Seven Mile Beach.